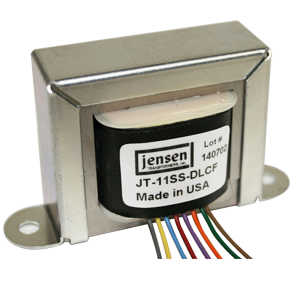 Line Output Transformer Selector Guide
Line output transformers are useful mainly because they allow any output stage circuit topology, whether balanced or unbalanced, to drive any equipment input, whether balanced or unbalanced, without regard to special connection rules or specific cables. Due to the isolation they afford, hum can be substantially reduced. Jensen output transformers are available in a wide variety of package styles and offer the industry's best combination of bandwidth, level handling, and distortion performance. All have extremely low "leakage" (effective series) inductance that is required to drive very long cables. Various core materials are available based on the source impedance of the driving stage.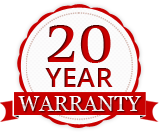 Line Output Transformer for Vacuum Tube drivers
Has single Faraday shield and horizontal channel frame mounting
Model


Data sheet PDF

Impedance
Ratio
Turns
Ratio
Max Input
@ 20 Hz
THD
@ 20Hz
Freq Response
20Hz/20kHz
 
JT-10K61-1M
Line output transformer, 4:1 CT or 8:1 step-down ratio with Faraday shield, for vacuum tube line outputs.
More Info
10k:600
4:1
+23 dBu
0.008%
-0.01 dB / -0.37 dB
| Model # | Description | Impedance Ratio | Turns Ratio | Max Input @ 20Hz | THD @ 20Hz | Freq Resp 20Hz / 20kHz | |
| --- | --- | --- | --- | --- | --- | --- | --- |
| JT-10K61-1M | Line output transformer, 4:1 CT or 8:1 step-down ratio with Faraday shield, for vacuum tube line outputs. | 10k:600 | 4:1 | +23 dBu | 0.008% | -0.01 dB / -0.37 dB | More Info |
Line Level General Purpose 1:1 Bifilar Output Transformer
Unless otherwise noted, all are multifilar construction with either 50% ("L" types) or 80% ("M" types) nickel cores. Because they have no Faraday shield, these types are not recommended as input transformers. Characterized below for 0 Ohm source and 600 Ohm load.
We have more models available that what you see on the two lists below. In general, nearly all of our output transformers can be made with either 50% nickel alloy laminations ("L") or 80% nickel laminations ("M"), even if you don't see it on these two lists. Just ask us by sending an email to: info@jensen-transformers.com 
Also, we have steel laminations available for all of the "B" and "D" series transformers below. Example: The JT-123-DCF is our quadfilar 5/8″ size transformer made with steel laminations.  
** We have a drop in replacement for the 16-14550 optional output transformer for the UREI 7110 compressor. It is our Jensen model JT-14550.
Model


Data sheet PDF

Impedance
Ratio
Turns
Ratio
Max Input
@ 20 Hz
THD
@ 20Hz
Freq Response
20Hz/20kHz
 
JT-11-BMCF
Line output transformer, with bifilar windings, 80% nickel laminations, +27dBu @ 20Hz. Channel frame mounting bracket included.
More Info
600:600
1:1
+27 dBu
0.002%
-0.01 dB / -0.00 dB
JT-11-DMCF JT-11-DMPC
Line output transformer, with bifilar windings, 80% nickel laminations, +22dBu @ 20Hz. Channel frame mounting bracket included.
More Info
600:600
1:1
+22 dBu
0.004%
-0.02 dB / -0.00 dB
JT-11-ELCF
Line output transformer, with bifilar windings, 50% nickel laminations, +24dBu @ 20Hz. Channel frame mounting bracket included.
More Info
600:600
1:1
+24 dBu
0.028%
-0.03 dB / -0.00dB
JT-11-EMCF JT-11-EMPC
Line output transformer, bifilar windings, 80% nickel laminations, +18dBu @ 20Hz. Channel frame mounting bracket included.
More Info
600:600
1:1
+18 dBu
0.007%
-0.02 dB / -0.00 dB
JT-11-FLCF
Line output, 1:1 ratio with bifilar windings, 50% nickel laminations, +21dBu @ 20Hz. Channel frame mounting bracket included.
More Info
600:600
1:1
+21 dBu
0.035%
-0.02 dB / -0.00 dB
JT-11-FLPCH
Line output transformer, 1:1 ratio with bifilar windings, 50% nickel laminations, +21dBu @ 20Hz. PC board mount.
More Info
600:600
1:1
+21 dBu
0.035%
-0.02 dB / -0.00 dB
JT-11-HFMPC
Line output transformer, 1:1 ratio with bifilar windings, 80% nickel laminations, +18dBm @ 20Hz. PC board mount.
More Info
600:600
1:1
+18 dBu
0.008%
-0.03 dB / -0.00 dB
JT-11-YMPC
Line output transformer, 1:1 ratio with bifilar windings, 80% nickel laminations, +8dBu @ 20Hz. PC board mount.
More Info
600:600
1:1
+8 dBu
0.005%
-0.00 dB / -0.00 dB
| Model # | Description | Impedance Ratio | Turns Ratio | Max Input @ 20Hz | THD @ 20Hz | Freq Resp 20Hz / 20kHz | |
| --- | --- | --- | --- | --- | --- | --- | --- |
| JT-11-BMCF | Line output transformer, with bifilar windings, 80% nickel laminations, +27dBu @ 20Hz. Channel frame mounting bracket included. | 600:600 | 1:1 | +27 dBu | 0.002% | -0.01 dB / -0.00 dB | More Info |
| JT-11-DMCF JT-11-DMPC | Line output transformer, with bifilar windings, 80% nickel laminations, +22dBu @ 20Hz. Channel frame mounting bracket included. | 600:600 | 1:1 | +22 dBu | 0.004% | -0.02 dB / -0.00 dB | More Info |
| JT-11-ELCF | Line output transformer, with bifilar windings, 50% nickel laminations, +24dBu @ 20Hz. Channel frame mounting bracket included. | 600:600 | 1:1 | +24 dBu | 0.028% | -0.03 dB / -0.00dB | More Info |
| JT-11-EMCF JT-11-EMPC | Line output transformer, bifilar windings, 80% nickel laminations, +18dBu @ 20Hz. Channel frame mounting bracket included. | 600:600 | 1:1 | +18 dBu | 0.007% | -0.02 dB / -0.00 dB | More Info |
| JT-11-FLCF | Line output, 1:1 ratio with bifilar windings, 50% nickel laminations, +21dBu @ 20Hz. Channel frame mounting bracket included. | 600:600 | 1:1 | +21 dBu | 0.035% | -0.02 dB / -0.00 dB | More Info |
| JT-11-FLPCH | Line output transformer, 1:1 ratio with bifilar windings, 50% nickel laminations, +21dBu @ 20Hz. PC board mount. | 600:600 | 1:1 | +21 dBu | 0.035% | -0.02 dB / -0.00 dB | More Info |
| JT-11-HFMPC | Line output transformer, 1:1 ratio with bifilar windings, 80% nickel laminations, +18dBm @ 20Hz. PC board mount. | 600:600 | 1:1 | +18 dBu | 0.008% | -0.03 dB / -0.00 dB | More Info |
| JT-11-YMPC | Line output transformer, 1:1 ratio with bifilar windings, 80% nickel laminations, +8dBu @ 20Hz. PC board mount. | 600:600 | 1:1 | +8 dBu | 0.005% | -0.00 dB / -0.00 dB | More Info |
Line Level Special Purpose Output Transformers
Model


Data sheet PDF

Impedance
Ratio
Turns
Ratio
Max Input
@ 20 Hz
THD
@ 20Hz
Freq Response
20Hz/20kHz
 
JT-123-BLCF
Line output transformer, 1:1 or 1:2 ratio with quadfilar windings, 50% nickel laminations, +33dBu @ 20Hz.
More Info
150:600
1:2
+35 dBu
0.022%
-0.03 dB / +0.05 dB
JT-123-BMCF
Line output transformer, 1:1 or 1:2 ratio with quadfilar windings, 80% nickel laminations, +27dBu @ 20Hz.
More Info
150:600
1:2
+27 dBu
0.002%
-0.03 dB / -0.01 dB
JT-123-DMCF
Line output transformer, 1:1 or 1:2 ratio with quadfiler windings, 80% nickel laminations, +26Bu @ 20Hz.
More Info
600:600
1:1
+26 dBu
0.004%
-0.05 dB / -0.00 dB
JT-123-DLCF
Line output transformer, 1:1 or 1:2 ratio with quadfilar windings, 50% nickel laminations, +30dBu @ 20Hz.
More Info
600:600
1:1
+30 dBu
0.025%
-0.05 dB / -0.00 dB
JT-123-DBX
Line output transformer, for use as optional transformer in some dBx compressors, 50% nickel laminations, +24dBu @ 20Hz.
More Info
600:600
1:1
+24 dBu
0.018%
-0.04 dB / +0.04 dB
JT-123-FLPCH
Line output transformer, 1:1 or 1:2 ratio with quadfilar windings, 50% nickel laminations, +21dBu @ 20Hz. PC board mount.
More Info
600:600
1:1
+20 dBu
0.025%
-0.04 dB / +0.04 dB
JT-123-SLPC
Line output transformer, 1:1 or 1:2 ratio with quadfilar windings, 50% nickel laminations, +24dBu @ 20Hz. PC board mount.
More Info
600:600
1:1
+24 dBu
0.018%
-0.04 dB / +0.04 dB
JT-123-ELCF
Line output transformer, 1:1 or 1:2 ratio with quadfilar windings, 50% nickel laminations, +24dBu @ 20Hz.
More Info
600:600
1:1
+24 dBu
0.018%
-0.04 dB / -0.00 dB
JT-11SS-DLCF-1:1 JT-11SS-DLCF-1:2
Line output transformer, 1:1 or 1:2 ratio with split bifilar windings, 50% nickel laminations, +30dBu @ 20Hz.
More Info
600:600
1:1
+30 dBu
0.025%
-0.05 dB / -0.00 dB
| Model # | Description | Impedance Ratio | Turns Ratio | Max Input @ 20Hz | THD @ 20Hz | Freq Resp 20Hz / 20kHz | |
| --- | --- | --- | --- | --- | --- | --- | --- |
| JT-123-BLCF | Line output transformer, 1:1 or 1:2 ratio with quadfilar windings, 50% nickel laminations, +33dBu @ 20Hz. | 150:600 | 1:2 | +35 dBu | 0.022% | -0.03 dB / +0.05 dB | More Info |
| JT-123-BMCF | Line output transformer, 1:1 or 1:2 ratio with quadfilar windings, 80% nickel laminations, +27dBu @ 20Hz. | 150:600 | 1:2 | +27 dBu | 0.002% | -0.03 dB / -0.01 dB | More Info |
| JT-123-DMCF | Line output transformer, 1:1 or 1:2 ratio with quadfiler windings, 80% nickel laminations, +26Bu @ 20Hz. | 600:600 | 1:1 | +26 dBu | 0.004% | -0.05 dB / -0.00 dB | More Info |
| JT-123-DLCF | Line output transformer, 1:1 or 1:2 ratio with quadfilar windings, 50% nickel laminations, +30dBu @ 20Hz. | 600:600 | 1:1 | +30 dBu | 0.025% | -0.05 dB / -0.00 dB | More Info |
| JT-123-DBX | Line output transformer, for use as optional transformer in some dBx compressors, 50% nickel laminations, +24dBu @ 20Hz. | 600:600 | 1:1 | +24 dBu | 0.018% | -0.04 dB / +0.04 dB | More Info |
| JT-123-FLPCH | Line output transformer, 1:1 or 1:2 ratio with quadfilar windings, 50% nickel laminations, +21dBu @ 20Hz. PC board mount. | 600:600 | 1:1 | +20 dBu | 0.025% | -0.04 dB / +0.04 dB | More Info |
| JT-123-SLPC | Line output transformer, 1:1 or 1:2 ratio with quadfilar windings, 50% nickel laminations, +24dBu @ 20Hz. PC board mount. | 600:600 | 1:1 | +24 dBu | 0.018% | -0.04 dB / +0.04 dB | More Info |
| JT-123-ELCF | Line output transformer, 1:1 or 1:2 ratio with quadfilar windings, 50% nickel laminations, +24dBu @ 20Hz. | 600:600 | 1:1 | +24 dBu | 0.018% | -0.04 dB / -0.00 dB | More Info |
| JT-11SS-DLCF-1:1 JT-11SS-DLCF-1:2 | Line output transformer, 1:1 or 1:2 ratio with split bifilar windings, 50% nickel laminations, +30dBu @ 20Hz. | 600:600 | 1:1 | +30 dBu | 0.025% | -0.05 dB / -0.00 dB | More Info |
Transformer Styles