Applications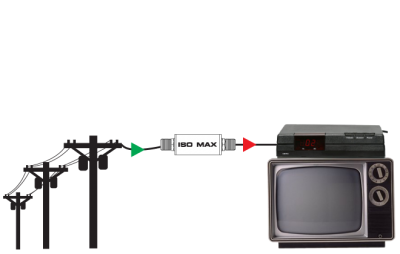 VRD-1FF with digital cable tv
The Iso•Max VRD-1FF is the perfect 'trouble-solving partner for digital video transmission problems. It isolates the source and destination without introducing frequency dips that cause channels to drop. It works equally well to get rid of audio hum and buzz with standard cable TV.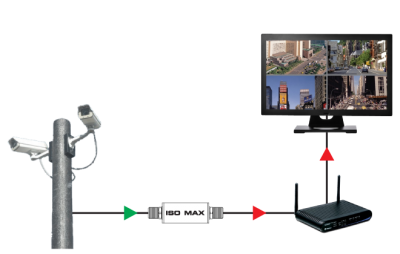 Solving CATV hum bars
When interfacing a distant camera to a video system, hum in the form of 60 cycle hum bars will often find their way into the picture. The Iso•Max VRD-1FF provides a plug & play solution that eliminates the problem-causing stray DC currents without affecting the video quality.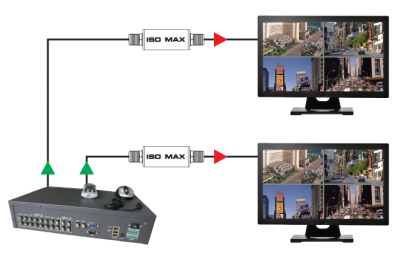 Distributing video in large facilities
Distributing video around a large facility such as an airport, arena, or convention hall can often lead to quality picture problems caused by fluctuating voltage references at various power drops. The VRD-1FF isolates the local monitor from disruptive DC currents.
Specifications
Source Z = load Z = 75 Ω, signal level = -20 dBm
| PARAMETER | CONDITIONS | MINIMUM | TYPICAL | MAXIMUM |
| --- | --- | --- | --- | --- |
| Insertion loss | 5 MHz, HP 3577A Analyzer |   | -0.19 dB |   |
| Insertion loss | 50 MHz, HP 3577A Analyzer |   | -0.01 dB | -0.1dB |
| Bandwidth | LF -3 dB re 100 MHz, HP 3577A Analyzer |   | 1 MHz | 1.2 MHz |
| Bandwidth | HF -3 dB re 100 MHz, HP 8711A Analyzer | 1000 MHz | > 1300 MHz |   |
| VSWR, input or output port | 50 MHz to 866 MHz, HP 8711A Analyzer |   | 1.08 (see graph) | 1.2 |
| Input to output voltage | |   |   | 200 V DC |
| Externally Radiated Field at 3 Meters | Ref. level = 1.414mVrms, Frequency = 50MHz |   | 1.1uV/meter |   |
| Externally Radiated Field at 3 Meters | Ref. level = 1.414mVrms, Frequency = 500MHz |   | 4.8uV/meter |   |
| Externally Radiated Field at 3 Meters | Ref. level = 1.414mVrms, Frequency = 1GHz |   | 6.3uV/meter |   |
| Margin below FCC part 76 Limits | Ref. level = 1.414mVrms, Frequency = 50MHz |   | 25.6dB |   |
| Margin below FCC part 76 Limits | Ref. level = 1.414mVrms, Frequency = 500MHz |   | 12.5dB |   |
| Margin below FCC part 76 Limits | Ref. level = 1.414mVrms, Frequency = 1GHz |   | 10.1dB |   |
| Cable length | output |   | 2 m (6') | 8 m (25') |
| Isolation Impedance | output shield to input shield, 60 Hz | 1 MΩ | 1.3 MΩ |   |
| Capacitance | output shield to input shield, 1 kHz |   | 2000 pF |   |
Graphs
Reflection Co-Efficient

Amplitude vs Frequency