Applications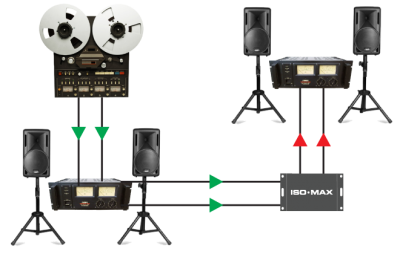 Using two amps in series
Some installations require expanding the audio system with more power to feed additional speakers to an adjacent room that may already be wired up. Use the SP-2SX to tap the signal from an existing amplifier to feed a second system.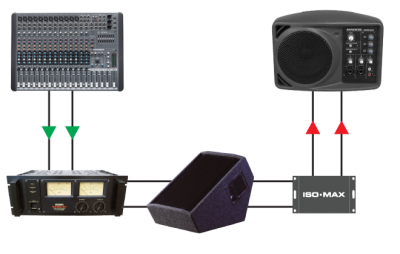 Add powered monitors on stage
The SP-2SX lets you take the speaker output from a wedge monitor and feed it to a set of powered monitors for the drummer or side fills. Simply connect into the SP-2SX, set the power level and it will deliver a distortion-free line level signal.
Specifications
+19 dBu on plots = max rated input voltage, Source = <100 Ω, Load = 22 kΩ unless noted
| PARAMETER | CONDITIONS | MINIMUM | TYPICAL | MAXIMUM |
| --- | --- | --- | --- | --- |
| Input impedance, Zi | 1 kHz, 10 V, varies with power selection | 1.1 kΩ | | 2.3 kΩ |
| Voltage gain | 1 kHz, input voltage = rated maximum ( see below ) | 17.5 dBu | +18 dBu | +18.5 dBu |
| Magnitude response, ref 1 kHz | 20 Hz, 10 V | -0.15 dB | -0.03 dB | ±0.0 dB |
| Magnitude response, ref 1 kHz | 20 kHz, 10 V | -0.35 dB | -0.20 dB | ±0.0 dB |
| Deviation from linear phase (DLP) | 20 Hz to 20 kHz, 10 V | | +1.4/-0° | ±2.0° |
| Distortion (THD) | 1 kHz, 15 db below rated input voltage | | <0.001% | |
| Distortion (THD) | 20 Hz, 15 db below rated input voltage | | 0.04% | 0.10% |
| Distortion (THD) | 20 Hz, maximum rated input voltage | | 0.8% | 1.5% |
| Common-mode rejection ratio (CMRR) | 60 Hz | | 115 dB | |
| Common-mode rejection ratio (CMRR) | 3 kHz | 80 dB | 90 dB | |
| Output impedance, Zo | 1 kHz | | 5.3 kΩ | |
| 8 Ω Amplifier power rating / rated maximum input votlage | S1 off, S2 off, S3 off | | | 25 W, 14 V |
| 8 Ω Amplifier power rating / rated maximum input votlage | S1 on, S2 off, S3 off | | | 75 W, 25 V |
| 8 Ω Amplifier power rating / rated maximum input votlage | S1 on, S2 on, S3 off | | | 250 W, 44 V |
| 8 Ω Amplifier power rating / rated maximum input votlage | S1 on, S2 on, S3 on | | | 750 W, 77V |
| 8 Ω Amplifier power rating / rated maximum input votlage | Any switch settings, without damage | | | 77 V |
| Optimal cable length | input | | | |
| Optimal cable length | output | | | |
| Temperature range | operation or storage | 0°C | | 70°C |
| Breakdown voltage* | speaker input to line output ground or chassis, 60 Hz, 1 minute test duration | 250 V RMS | | |
Graphs
Phase Distortion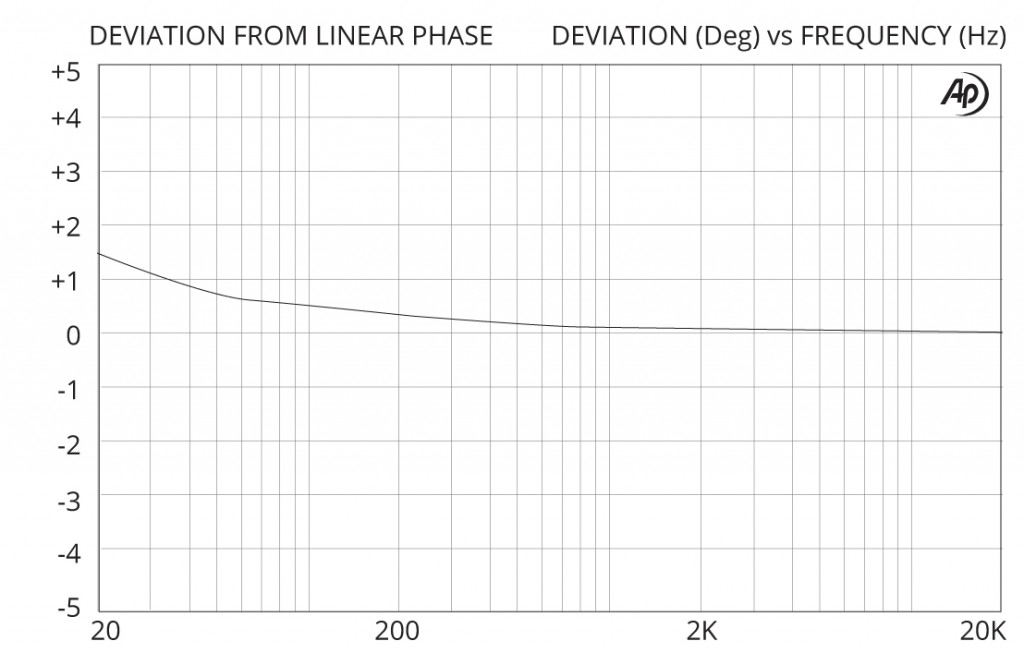 Frequency Response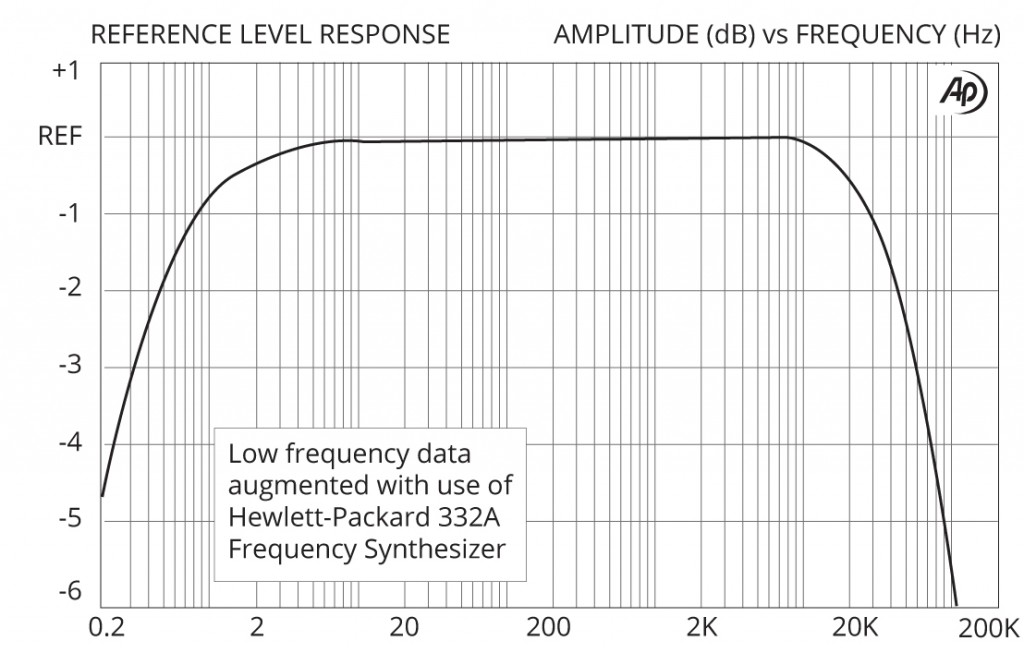 THD vs Level at Low Frequencies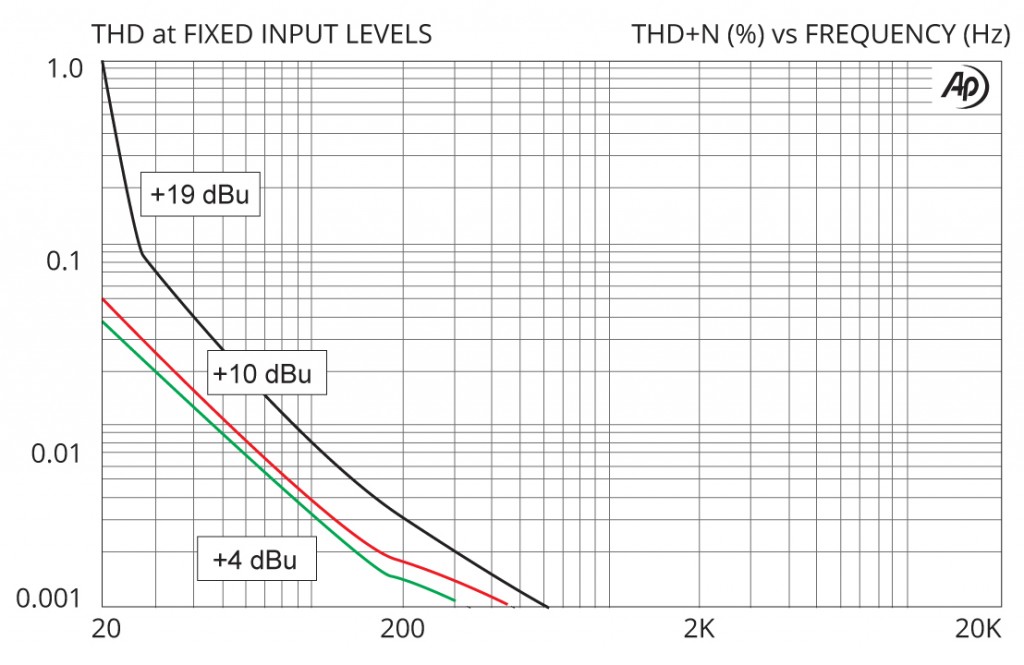 THD vs Frequency at Various Levels