Applications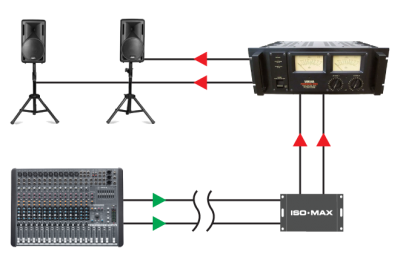 PI-2XX with a PA system
Eliminating noise in a PA system can take hours of trouble shooting, particularly when the mixer, amplifiers and speakers are distanced apart. Connect the PI-2XX at the input of your amplifier to eliminate ground loop hum and buzz.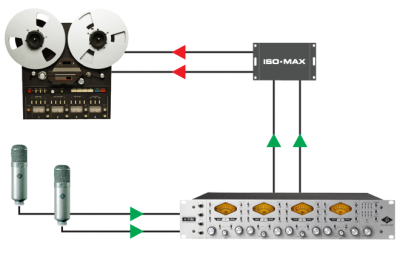 PI-2XX in the studio
Recording and broadcast studios require a noise-free signal transfer while delivering the most accurate sound possible. The Iso-Max PI-2XX eliminates ground loops and lowers RF without introducing distortion, phase shift or artifact.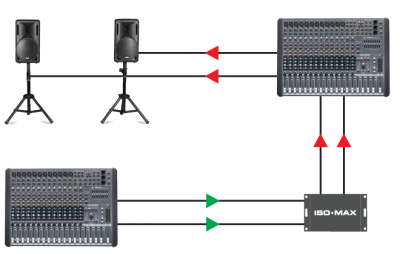 Isolating one console from another
Whether you are isolating two consoles in a festival or experiencing noise when connecting to a drive rack, the PI-2XX is easily inserted into the signal chain to break the ground loop and eliminate noise as it easily handles huge bass transients without distortion.
Specifications
All levels are input unless noted, +4 dBu = 1.23 V RMS
| PARAMETER | CONDITIONS | MINIMUM | TYPICAL | MAXIMUM |
| --- | --- | --- | --- | --- |
| Input impedance, Zi | 1 kHz, +4 dBu, test circuit 1 | 22.0 kΩ | 23.5 kΩ | 25.0 kΩ |
| Insertion loss | 1 kHz, +4 dBu, test circuit 1 |   | 1.6 dB | 2.0 dB |
| Magnitude response, ref 1 kHz | 20 Hz, +4 dBu, test circuit 1 | -0.15 dB | -0.03 dB | ±0.0 dB |
| Magnitude response, ref 1 kHz | 20 kHz, +4 dBu, test circuit 1 | -1.0dB | -0.70 dB | ±0.0 dB |
| Deviation from linear phase (DLP) | 20 Hz to 20 kHz, +4 dBu, test circuit 1 |   | +1.4/-0° | ±2.0° |
| Distortion (THD) | 1 kHz, +4 dBu, test circuit 1 |   | <0.001% |   |
| Distortion (THD) | 20 Hz, +4 dBu, test circuit 1 |   | 0.04% | 0.10% |
| Maximum 20 Hz input level | 1% THD, test circuit 1 | +17 dBu | +19 dBu |   |
| Common – mode rejection ratio (CMRR) 600 Ω balanced / unbalanced source | 60 Hz, test circuit 2 / 3 |   | 124 dB / 95 dB |   |
| Common – mode rejection ratio (CMRR) 600 Ω balanced / unbalanced source | 3 kHz, test circuit 2 / 3 | 85 dB | 95 dB / 85 dB |   |
| Output impedance, Zo | 1 kHz, test circuit 1 |   | 4.65 kΩ |   |
| Allowable source impedance | (output impedance of device driving the ISO-MAX input) | 0 | 600 Ω | 2 kΩ |
| Allowable load impedance | (input impedance of device loading the ISO-MAX output) | 10 kΩ | 20 kΩ |   |
| Allowable load capacitance | (cable & input capacitance loading the ISO-MAX output) | 0 | 50 pF | 100 pF |
| Optimal cable length | input |   | 1 m (3.3') | 3 m (9.8') |
| Temperature range | operation or storage | 0°C |   | 70°C |
| Input to Output Voltage Difference* | any input to any output shield or any shield to case, 60 Hz |   |   | 24 V RMS 34 V peak |
Graphs
Phase Distortion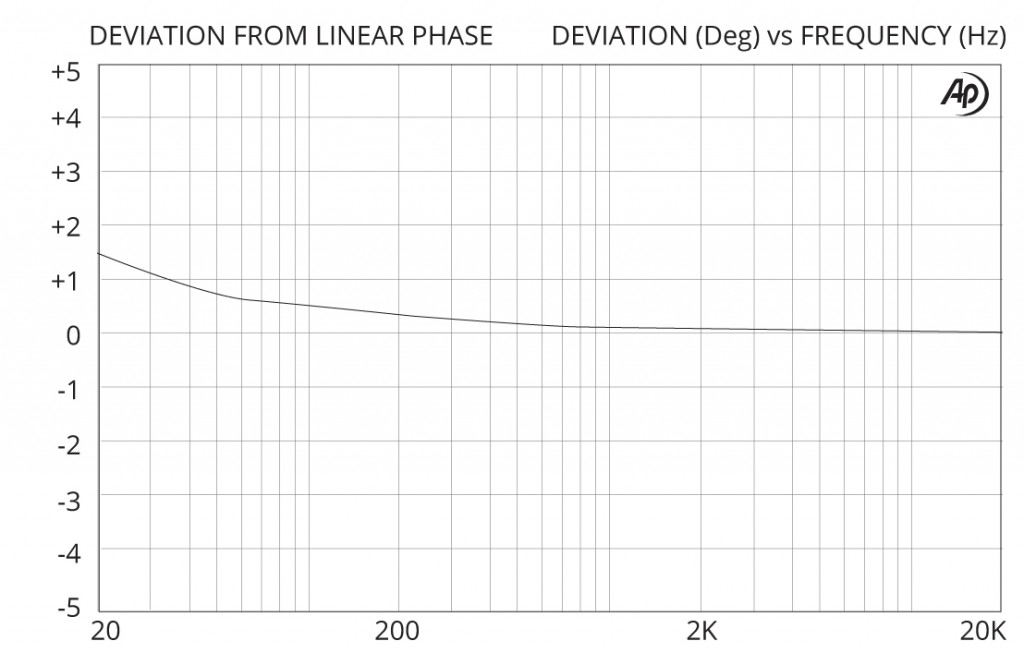 Frequency Response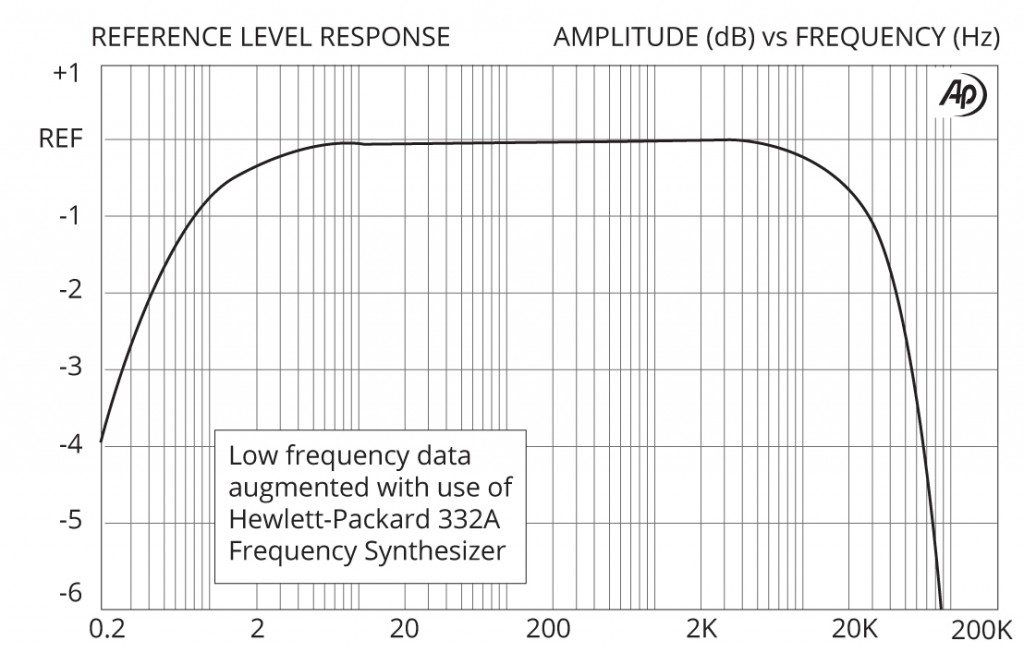 THD vs Level at Low Frequencies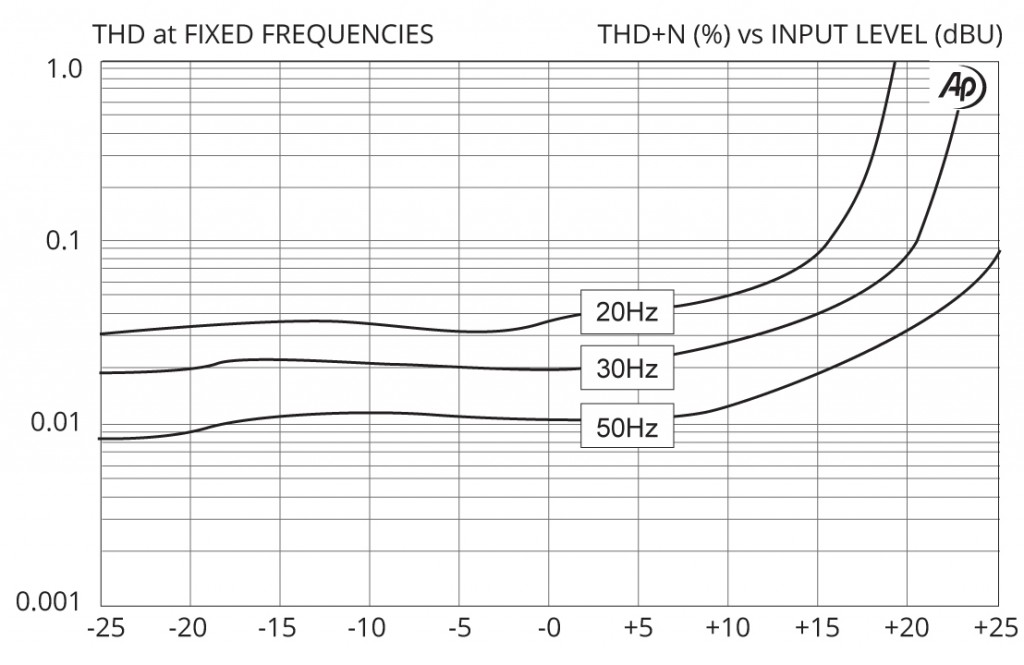 THD vs Frequency at Various Levels