Applications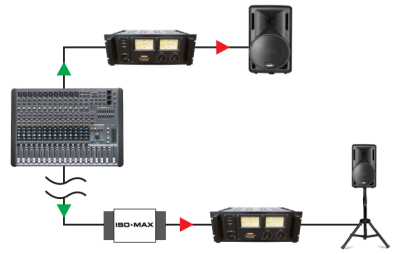 DIN-LI with a PA system
Eliminating noise in a PA system can sometimes take hours of trouble shooting, particularly when the mixer, amplifiers and speakers are distanced apart. Simply connect the DIN-LI at the input of your amplifier to instantly eliminate ground loop hum and buzz.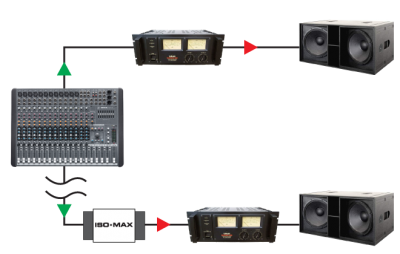 DIN-LI Isolating subs
The use of sub woofers in a PA system has become common in most touring setups. Use the DIN-LI to isolate the sub-woofer amplifier racks to eliminate ground loops without affecting the audio signal path. The DIN-LI is able to withstand tremendous signal levels without distortion.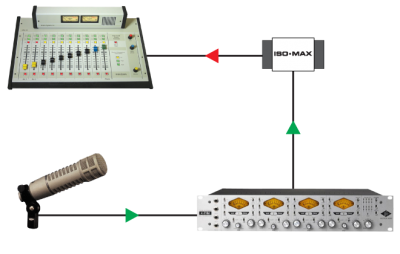 DIN-LI in the studio
Recording and broadcast studios require a noise-free signal transfer while delivering the most accurate sound possible. The Iso•Max DIN-LI eliminates ground loops and lowers RF without introducing distortion, phase shift or artifact.
Specifications
All levels are input unless noted
| PARAMETER | CONDITIONS | MINIMUM | TYPICAL | MAXIMUM |
| --- | --- | --- | --- | --- |
| Input impedance, Zi | 1 kHz, +4 dBu, test circuit 1 | 13.0 kΩ | 14.1 kΩ | 15.0 kΩ |
| Voltage Gain | 1 kHz, +4 dBu, test circuit 1 | -3.2 dB | -3.0 dB | -2.8 dB |
| Magnitude response, ref 1 kHz | 20 Hz, +4 dBu, test circuit 1, Rs = 600 Ω | -0.15 dB | -0.03 dB | ±0.0 dB |
| Magnitude response, ref 1 kHz | 20 Hz, +4 dBu, test circuit 1, Rs = 600 Ω | -0.35 dB | -0.20 dB | ±0.0 dB |
| Deviation from linear phase (DLP) | 20 Hz, 20 kHz, +4 dBu, test circuit 1, Rs = 600 Ω |   | +1.4/-0° | ±2.0° |
| Distortion (THD) | 1 kHz, +4 dBu, test circuit 1, Rs = 600 Ω |   | <0.001% |   |
| Distortion (THD) | 20 Hz, +4 dBu, test circuit 1, Rs = 600 Ω |   | 0.04% | 0.10% |
| Maximum 20 Hz input level | 1% THD, test circuit 1, Rs = 600 Ω | +17 dBu | +19 dBu |   |
| Common – mode rejection ratio (CMRR) 600 Ω balanced source | 60 Hz, test circuit 2 |   | 124 dB |   |
| Common – mode rejection ratio (CMRR) 600 Ω balanced source | 3 kHz, test circuit 2 | 85 dB | 95 dB |   |
| Common – mode rejection ratio (CMRR) 600 Ω unbalanced source | 60 Hz, test circuit 3 |   | 95 dB |   |
| Common – mode rejection ratio (CMRR) 600 Ω unbalanced source | 3 kHz, test circuit 3 |   | 85 dB |   |
| Output impedance, Zo | 1 kHz, test circuit 1, Rs = 600 Ω |   | 3.2 kΩ |   |
| Optimal cable length | input |   |   |   |
| Optimal cable length | output |   |   |   |
| Turns ratio | | 0.999:1 | 1.000:1 | 1.001:1 |
| Temperature range | operation or storage | 0°C |   | 70°C |
| Breakdown voltage | primary or secondary to shield and case, 60 Hz, 1 minute test duration | 250 V RMS |   |   |
Graphs
Phase Distortion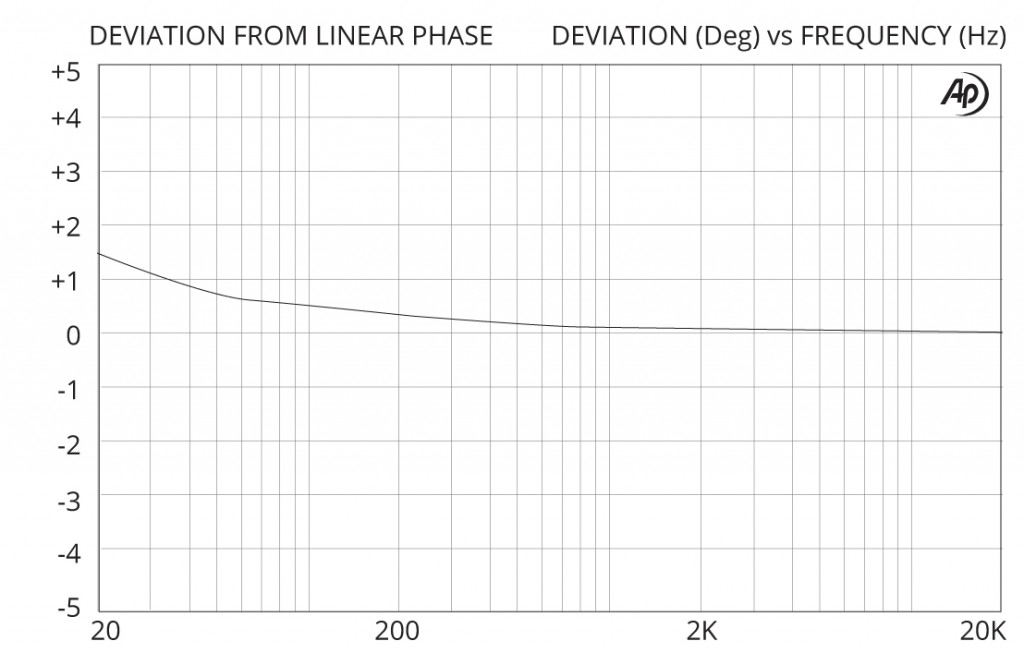 Frequency Response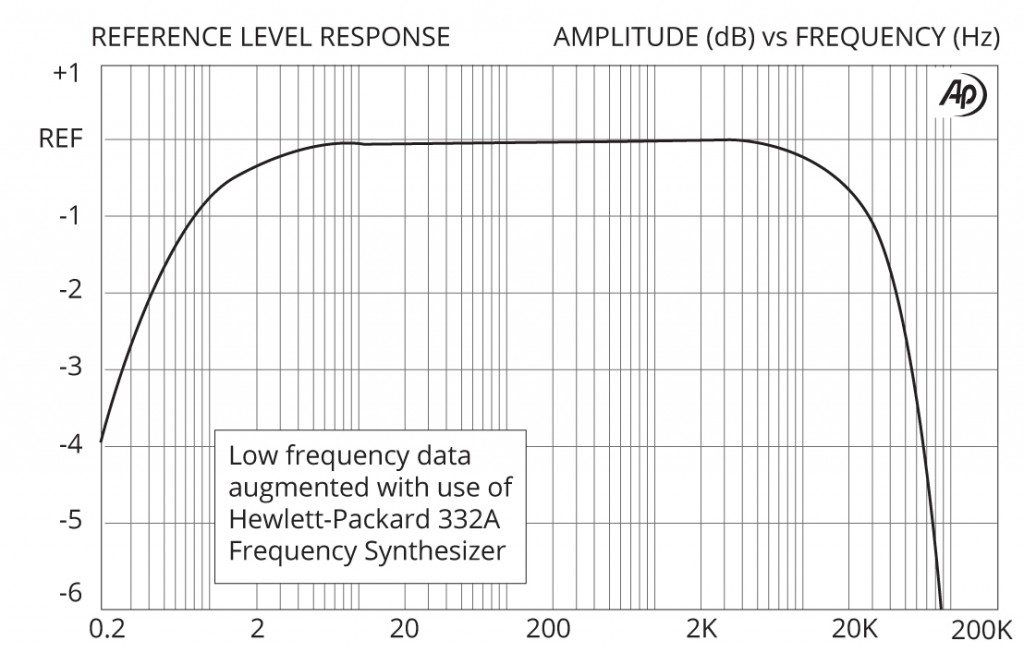 THD vs Level at Low Frequencies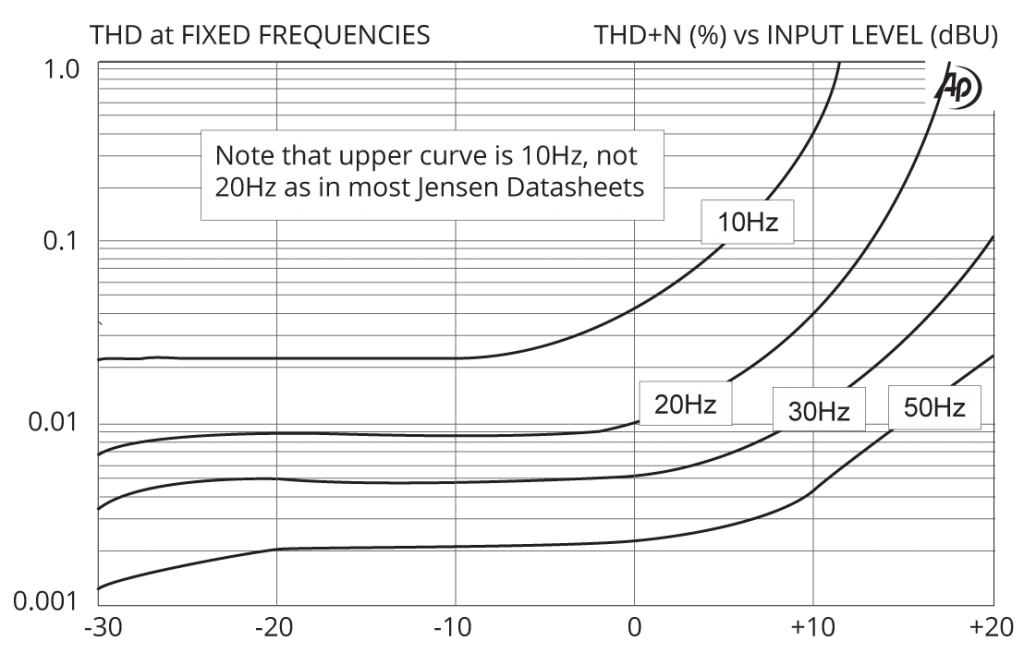 THD vs Frequency at Various Levels