Applications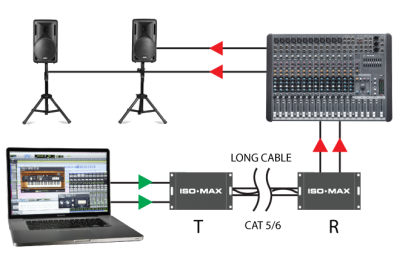 Connecting a laptop computer
The CI-RJ2R makes it easy for a presenter to play audio tracks from their computer to a PA system. Connect the audio output from the computer to RCA inputs on the CI-RJ2R transmitter and the CI-RJ2R receiver will deliver the audio without distortion or artifact.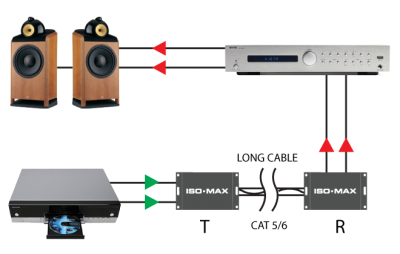 Connecting a CD player
Certain installations require connecting unbalanced consumer audio devices that may be distanced apart. The CI-RJ2R lets you use pre-existing CAT-5 network cable in between the transmit and receive modules and send the signal up to 100 meters (350') without noise.
Specifications
-T and -R units connected by 15 m (50') CAT-5 cable, source = 600 Ω, Load = 22 kΩ unless noted
| PARAMETER | CONDITIONS | MINIMUM | TYPICAL | MAXIMUM |
| --- | --- | --- | --- | --- |
| Input impedance, Zi | 1 kHz, -10 dBV |   | 22 kΩ |   |
| Voltage gain | 1 kHz, -10 dBV | -2.0 dB | -1.65 dB | -1 dB |
| Magnitude response, ref 1 kHz | 20 Hz, -10 dBV | -0.15 dB | -0.03 dB | ±0.0 dB |
| Magnitude response, ref 1 kHz | 20 kHz, -10 dBV | -0.35 dB | -0.20 dB | ±0.0 dB |
| Deviation from linear phase (DLP) | 20 Hz to 20 kHz, -10 dBV |   | +1.4/-0° | ±2.0° |
| Distortion (THD) | 1 kHz, +2 dBV |   | <0.001% |   |
| Distortion (THD) | 20 Hz, +2 dBV |   | 0.04% | 0.10% |
| Maximum 20 Hz input level | 1% THD | +14 dBV | +17 dBV |   |
| Common – mode rejection ratio (CMRR) | 60 Hz |   | 115 dB |   |
| Common – mode rejection ratio (CMRR) | 3 kHz | 80 dB | 90 dB |   |
| Output impedance, Zo | 1 kHz |   | 5.3 kΩ |   |
| Cable length effect on 20 kHz response in dB (cable at 15 pF per foot) | 8 m (25') / 375 pF |   | 0 dB |   |
| Cable length effect on 20 kHz response in dB (cable at 15 pF per foot) | 15 m (50') / 750 pF |   | 0 dB |   |
| Cable length effect on 20 kHz response in dB (cable at 15 pF per foot) | 30 m (100') / 1.5 nF |   | -0.2 dB |   |
| Cable length effect on 20 kHz response in dB (cable at 15 pF per foot) | 80 m (250') / 3.75 nF |   | -1.0 dB |   |
| Cable length effect on 20 kHz response in dB (cable at 15 pF per foot) | 100 m (350') / 5.25 nF |   | -1.7 dB |   |
| Temperature range | operation or storage | 0°C |   | 70°C |
| Breakdown voltage* | transmitter to receiver ground references, 60 Hz, 1 minute test duration | 250 V RMS |   |   |
Graphs
Phase Distortion (DLP)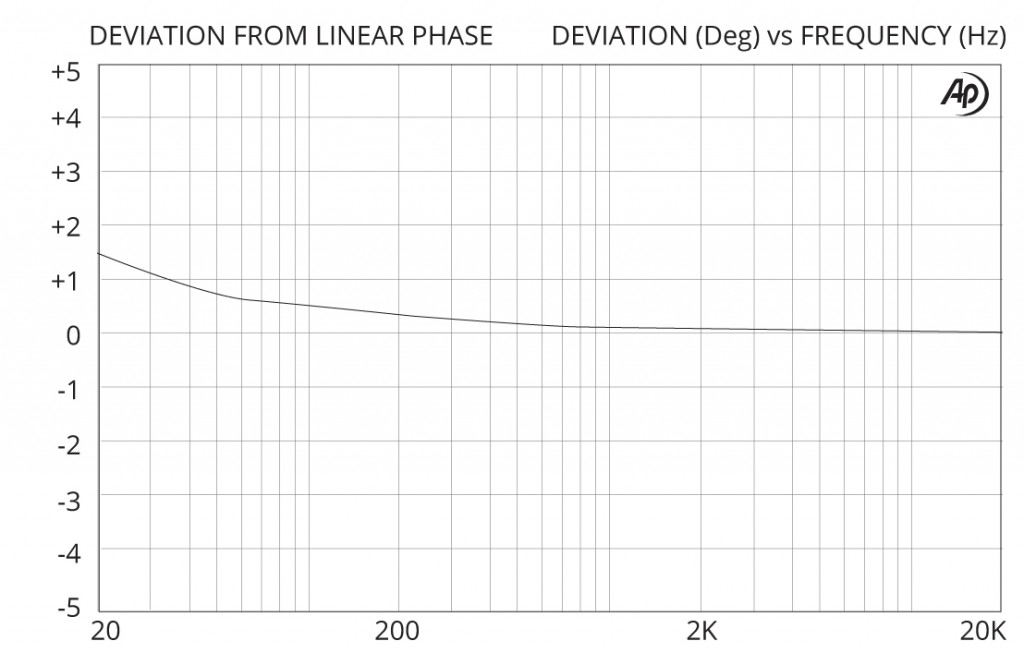 Frequency Response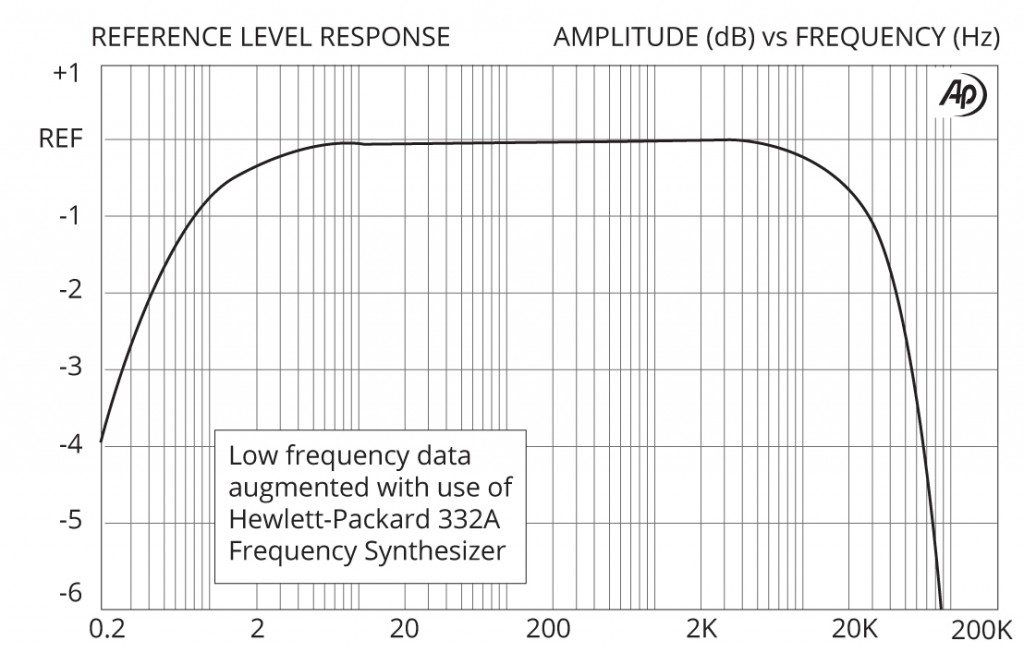 THD vs Level at Low Frequencies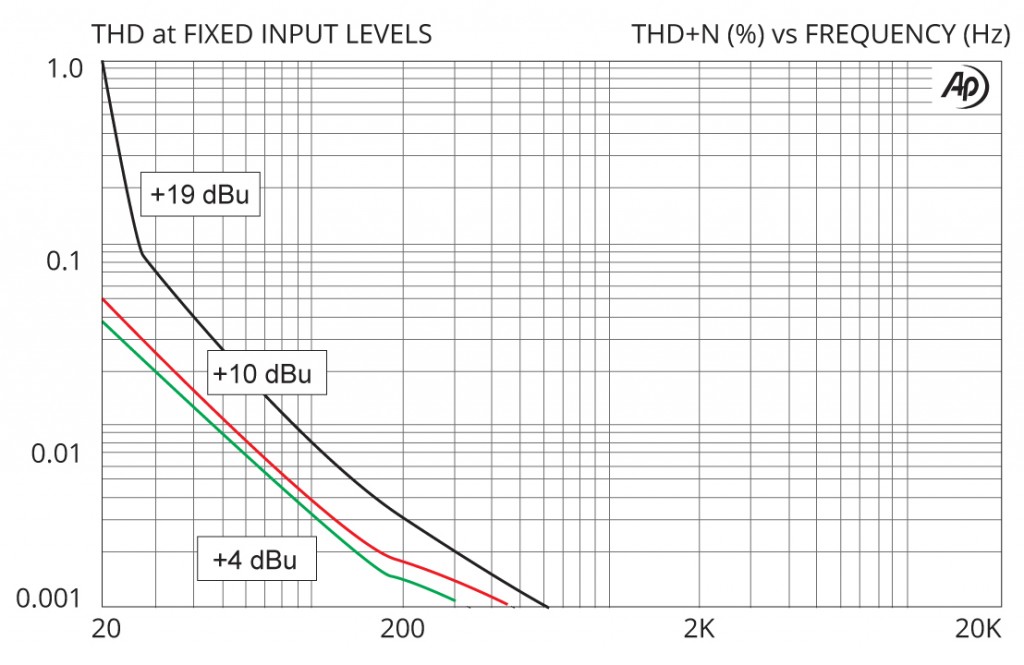 THD vs Frequency at Various Levels