Applications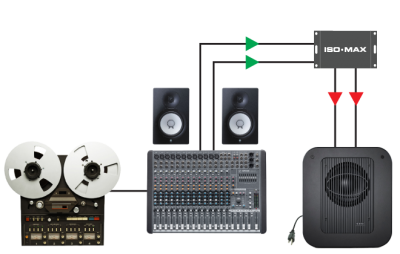 Isolating a sub woofer in the studio
Many sub woofers have stereo inputs with an internal mono summing mixer. Send the balanced output from your playback system to the SUB-2XX and the output to your sub. The Iso-Max SUB-2XX will faithfully deliver the signal without smearing or choking.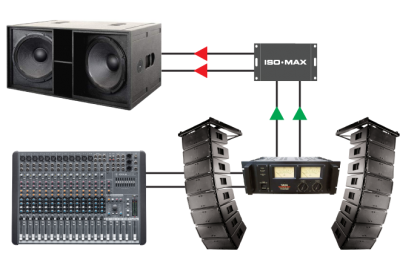 Isolating a sub woofer in a PA system
The use of sub woofers in a PA system has become common in most touring setups. Use the SUB-2XX to isolate the sub-woofer amplifier racks to eliminate ground loops without affecting the audio signal path. The SUB-2XX is able to withstand tremendous signal levels without distortion.
Specifications
All levels are input unless noted, +4 dBu = 1.23 V RMS
| PARAMETER | CONDITIONS | MINIMUM | TYPICAL | MAXIMUM |
| --- | --- | --- | --- | --- |
| Input impedance, Zi | 100 Hz, -10 dBV, test circuit 1 | 39.0 kΩ | 39.4 kΩ | 39.8 kΩ |
| Insertion loss | 100 Hz, -10 dBV, test circuit 1 | -0.30 dB | 0.00 dB | .30 dB |
| Magnitude response, ref 100 Hz | 2 Hz, -10 dBV, test circuit 1 | -0.25 dB | -0.11 dB | -0.00 dB |
| Magnitude response, ref 100 Hz | 2 kHz, -10 dBV, test circuit 1 | -0.8 dB | -0.65 dB | -0.50 dB |
| Deviation from linear phase (DLP) | 10 Hz to 2 kHz, -10 dBV, test circuit 1 |   | +0.7/-0° | ±2.0° |
| Distortion (THD) | 100 Hz, -10 dBV, test circuit 1 |   | <0.001% |   |
| Distortion (THD) | 20 Hz, -10 dBV, test circuit 1 |   | 0.01% | 0.05% |
| Maximum 20 Hz input level | 1% THD, test circuit 1 | +16 dBV | +18 dBV |   |
| Common – mode rejection ratio (CMRR) | 60 Hz, test circuit 2 |   | 105 dB |   |
| Common – mode rejection ratio (CMRR) | 3 kHz, test circuit 2 | 50dB | 65 dB |   |
| Output impedance, Zo | 100 Hz, test circuit 1 |   | 5.00 kΩ |   |
| Allowable source impedance | (output impedance of device driving the ISO-MAX input) | 0 | 600 Ω | 2 kΩ |
| Allowable load impedance | (input impedance of device loading the ISO-MAX output) | 20 kΩ | 47 kΩ | ∞  |
| Allowable load capacitance | (cable & input capacitance loading the ISO-MAX output) | 0 | 50 pF | 1000 pF |
| Optimal cable length | input |   | 30 m (100') | 200 m (650') |
| Optimal cable length | output |   | 1 m (3') | 3 m (10') |
| Temperature range | operation or storage | 0°C |   | 70°C |
| Input to Output Voltage Difference* | input to output shield or either shield to chassis, 60 Hz |   |   | 24 V RMS 34 V peak |
Graphs
Phase Distortion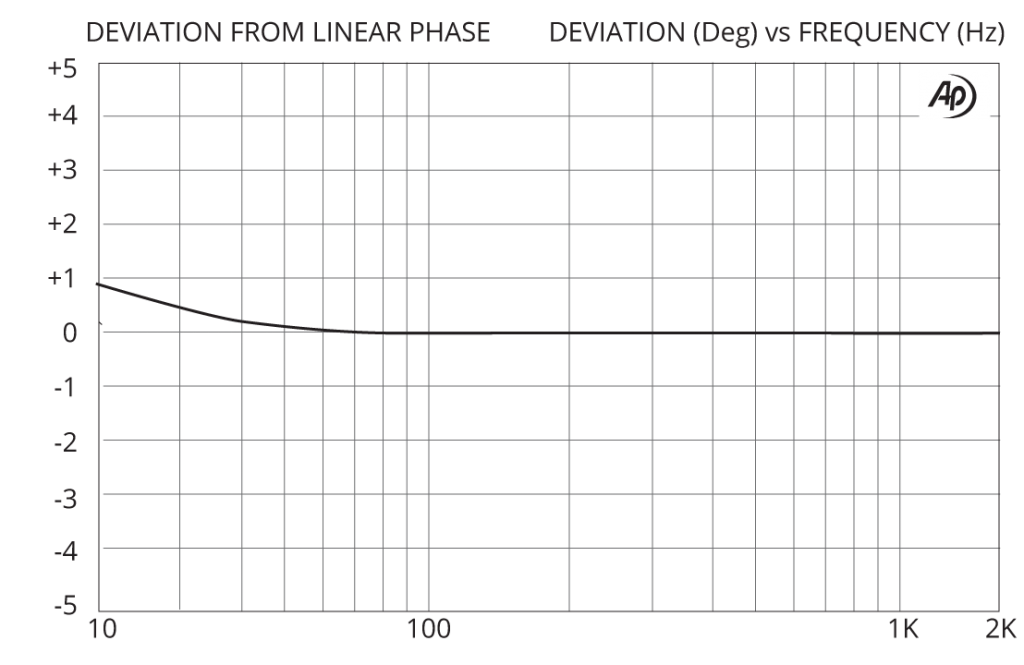 Frequency Response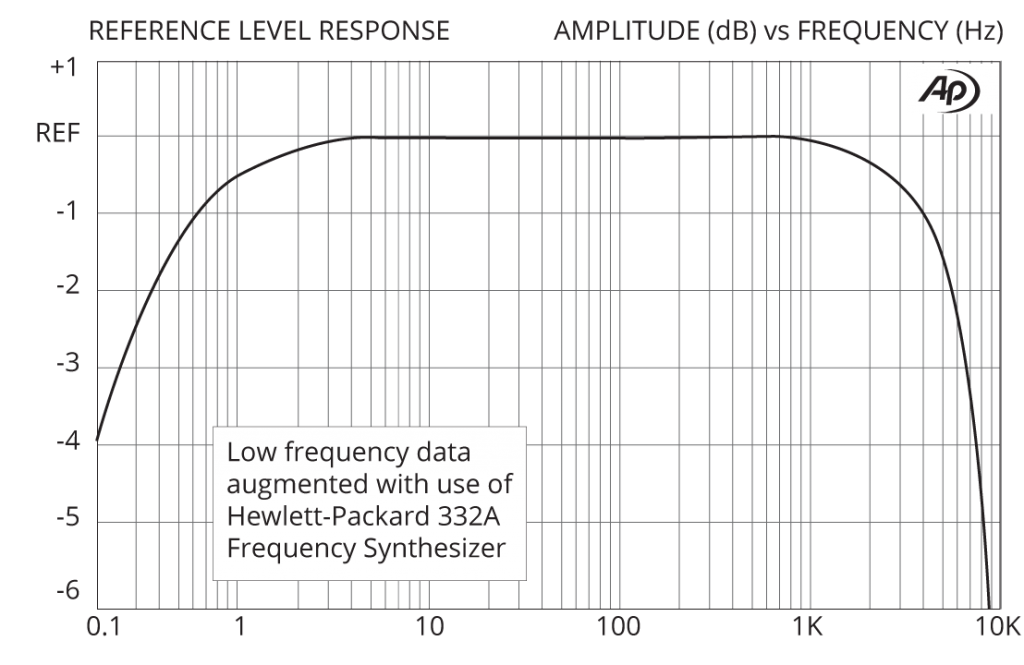 THD vs Level at Low Frequencies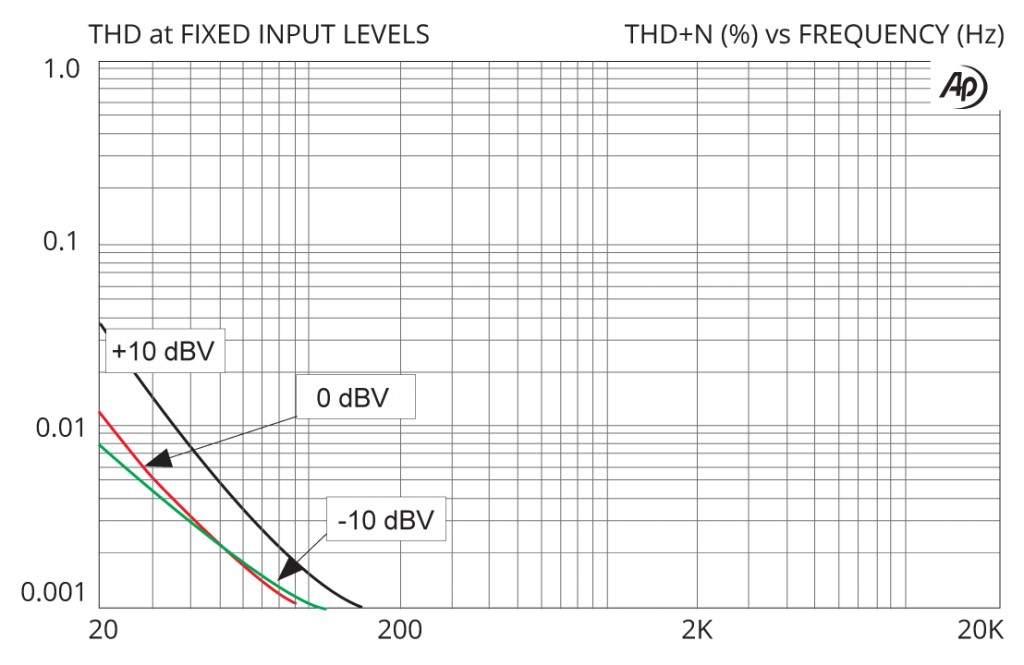 THD vs Frequency at Various Levels