Applications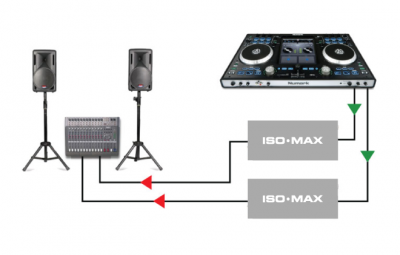 Isolating the DJ mixer from a console
Plug a couple of GLXs in between the DJ mixer and the main PA to rid the system from hum or buzz caused by ground loops. Standard XLR connections make it easy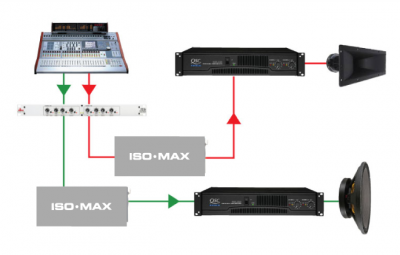 Isolating a crossover from a power amp
Eliminating noise problems can take hours of troubleshooting. The GLX takes the hassle out of the equation with a plug and play solution that works every time.
Isolating a console from a remote tower
When distant power systems power equipment it often leads to noise, due to voltage fluctuations and ground contamination. The GLX isolates the system to reduce noise.
Specifications
| Specifications   |   |
| --- | --- |
| Audio circuit type: | Passive, transformer based |
| Frequency response: | 20Hz ~ 20KHz (± 1dB) |
| Dynamic range: | >135dB |
| Maximum input: | 15dBu |
| Gain: | 0dB / -5.7dB 10K / 600 Ω Load |
| Clip level: | 25dBu |
| Equivalent input noise: | 110dBu |
| Intermodulation distortion: | 0.002% @ -10dBu |
| Total harmonic distortion: | <0.0006% 1KHz @ -10dBu |
| Input impedance: | 8.66k with 10k load |
| Output impedance: | 600 Ω nominal |
| | |
| Features |   |
| Ground lift: | Disconnects pin-1 at XLR output |
| XLR configuration: | AES standard: Pin-1(Gnd), Pin-2(+), Pin-3(-) |
| Connectors: | XLR-FEMALE input; XLR-MALE output |
| General |   |
| Construction: | 16 gauge steel chassis & outer shell |
| Finish: | Durable powder coat |
| Size: (L x W x D) | 4.2″ x 1.32″ x 1.6″ (107mm x 34mm x 41mm) |
| Weight: | 0.40lbs (0.18kg) |
| Shipping Size: (L x W x D) | 8″ x 5″ x 3″ (203mm x 127mm x 76mm) |
| Shipping Weight: | 0.55lbs (0.25kg) |
| Power: | Passive, no power required |
| Conditions: | For use in dry locations only between 5°C and 40°C |