Applications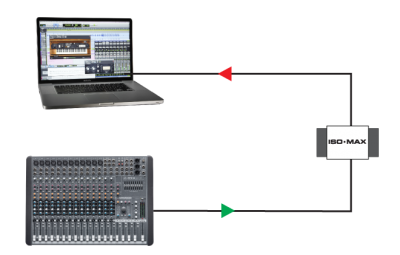 DIN-PC with a laptop
Use the DIN-PC to convert the balanced line level output from your mixing console to the unbalanced input on your laptop or sound card. The DIN-PC will manage the signal while eliminating hum and buzz caused by ground loops.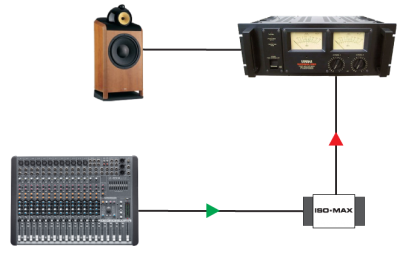 Pro-balanced signal to hi-fi
The Iso•Max DIN-PC is perfect for situations where you need to send a pro-balanced signal to a stereo hi-fi type input. Simply connect to the balanced inputs and output the -10 dB signal to feed the hi-fi system.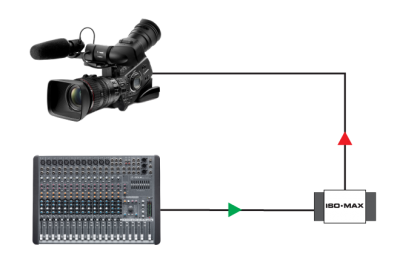 Audio interface for video camera
Capturing a live performance is easy using the DIN-PC as the audio interface between the mixing console and your video camera. Connect the console to the balanced inputs and send the unbalanced outputs to your camera.
Specifications
All levels are input unless noted
PARAMETER
CONDITIONS
MINIMUM
TYPICAL
MAXIMUM
Input impedance, Zi
1 kHz, +4 dBu, test circuit 1
39.4 kΩ
41.5 kΩ
43.6 kΩ
Voltage gain
1 kHz, +4 dBu, test circuit 1
-13.4 dB
-12.9 dB
-12.4 dB
Magnitude response, ref 1 kHz
20 Hz, +4 dBu, test circuit 1
-0.15 dB
-0.04 dB
±0.0 dB
20 kHz, +4 dBu, test circuit 1
-0.15 dB
-0.03 dB
+0.1 dB
Deviation from linear phase (DLP)
20 Hz to 20 kHz, +4 dBu, test circuit 1
 
+0.6/-0.1°
±2.0°
Distortion (THD)
1 kHz, +4 dBu, test circuit 1
 
<0.001%
 
Distortion (THD)
20 Hz, +4 dBu, test circuit 1
 
0.015%
0.05%
Maximum 20 Hz input level
1% THD, test circuit 1
+19 dBu
+21 dBu
 
Common mode rejection ratio (CMRR) 50 Ω balanced source
60 Hz, test circuit 2
 
120 dB
 
Common mode rejection ratio (CMRR) 50 Ω balanced source
3 kHz, test circuit 2
70 dB
85 dB
 
Common mode rejection ratio (CMRR) 600 Ω unbalanced source
60 Hz, test circuit 3
 
90 dB
 
Common mode rejection ratio (CMRR) 600 Ω unbalanced source
3 kHz, test circuit 3
 
55 dB
 
Output impedance, Zo
1 kHz, test circuit 1
 
225 Ω
 
Optimal cable length
input
 
 
 
Optimal cable length
output
 
1 m (3')
6 m (20')
Temperature range
operation or storage
0°C
 
70°C
Breakdown voltage*
primary to secondary to shield and case, 60 Hz, 1 minute test duration
250 V RMS
 
 
Graphs
Phase Distortion (DLP)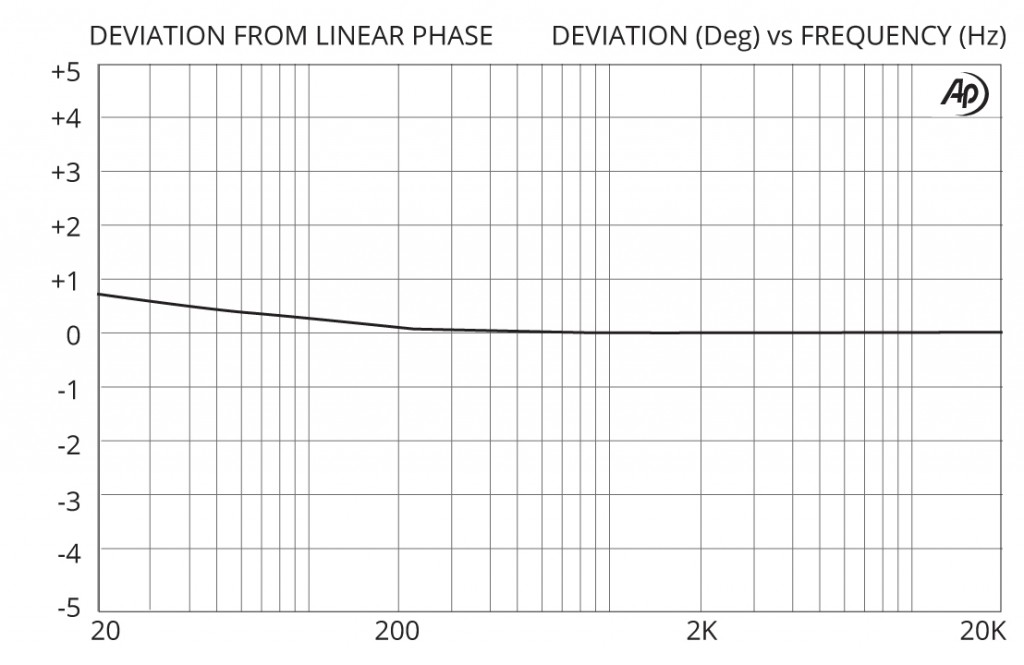 Frequency Response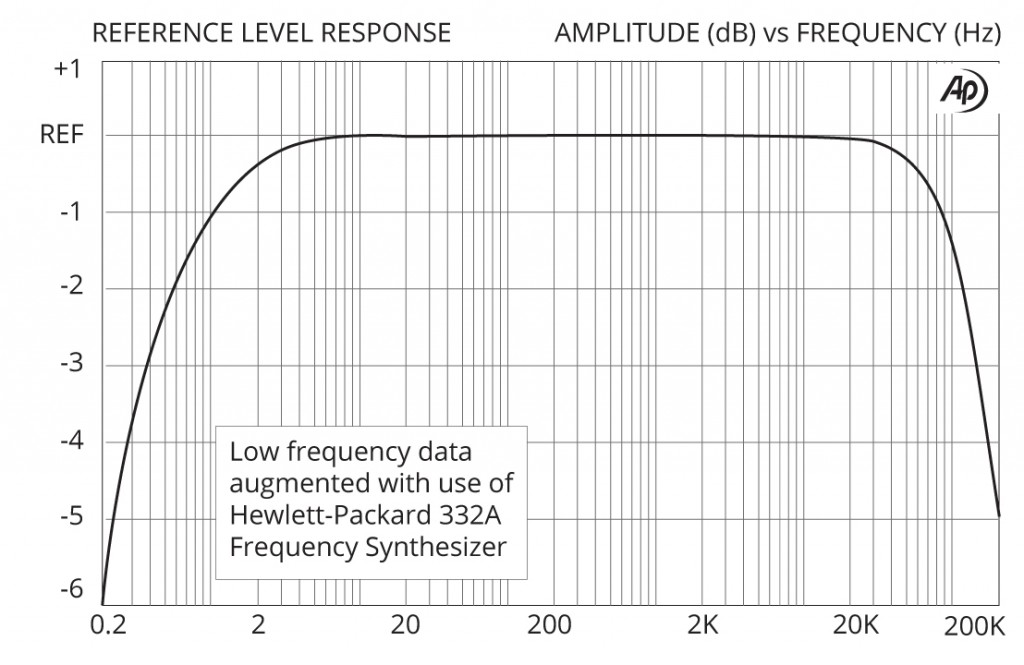 THD vs Level at Low Frequencies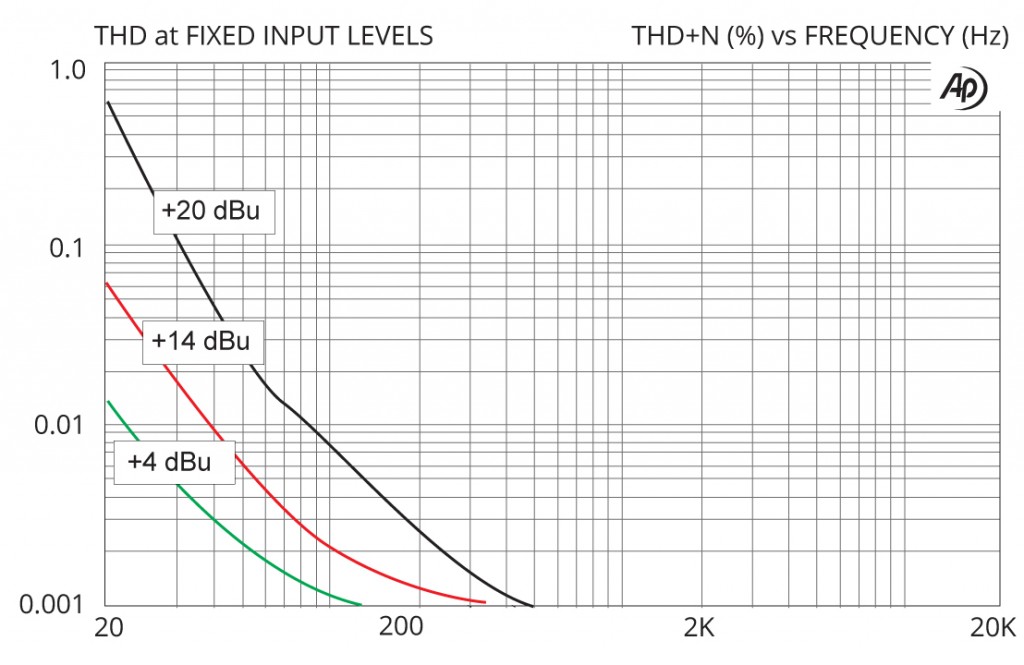 THD vs Frequency at Various Levels