Applications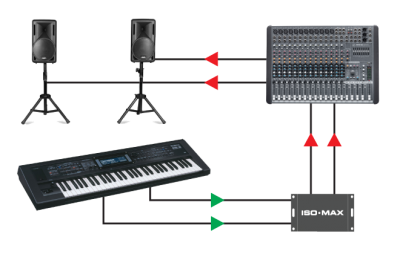 Passive Direct box with PA
Connect the hi-Z output from your keyboard to the DB-2PX and it will lower the impedance and balance the signal for long cable runs. It also eliminates hum and buzz caused by ground loops.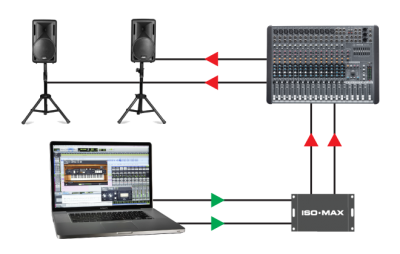 Laptop DI to PA system
Send the stereo output from your laptop, CD player or DJ mixer to the DB-2PX and it will deliver a balanced mic level output to feed a mic splitter or the mic input of your mixing console without noise or distortion.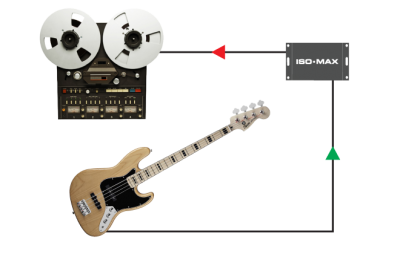 DB-2PX in the studio
The high input impedance, exceptional signal handling and broad frequency response make the DB-2PX a great choice for interfacing electric bass or acoustic guitar to the PA or recording system.
Specifications
All levels are input unless noted
| PARAMETER | CONDITIONS | MINIMUM | TYPICAL | MAXIMUM |
| --- | --- | --- | --- | --- |
| Input impedance, Zi | 1 kHz, 0 dBu, test circuit 1 | 92 kΩ | 97 kΩ | 102 kΩ |
| Voltage gain | 1 kHz, 0 dBu, test circuit 1 | -40.0 dB | -38.6 dB | |
| Magnitude response, ref 1 kHz | 20 Hz, +4 dBu, test circuit 1 | -0.25 dB | -0.08 dB | 0.0 dB |
| Magnitude response, ref 1 kHz | 20 kHz, +4 dBu, test circuit 1 | -0.25 dB | -0.07 dB | +0.1 dB |
| Deviation from linear phase (DLP) | 20 Hz to 20 kHz, +4 dBu, test circuit 1 | | +1.2/-0° | ±2.0° |
| Distortion (THD) | 1 kHz, +4 dBu, test circuit 1 | | <0.001% | |
| Distortion (THD) | 20 Hz, +4 dBu, test circuit 1 | | 0.036% | 0.10% |
| Maximum 20 Hz input level | 1% THD, test circuit 1 | +19.5 dBu | +21.5 dBu | |
| Input common mode rejection ratio (CMRR) unbalanced source | 60 Hz, test circuit 2 | | 80 dB | |
| Input common mode rejection ratio (CMRR) unbalanced source | 3 kHz, test circuit 2 | 40 dB | 45 dB | |
| Output impedance, Zo | 1 kHz, test circuit 1 | 145 Ω | 150 Ω | 155 Ω |
| Optimal cable length | input | | 3 m (10') | 15 m (50') |
| Optimal cable length | output | | 30 m (100') | 150 m (500') |
| Temperature range | operation or storage | 0°C | | 70°C |
| Breakdown voltage* | primary or secondary to shield and case, 60 Hz, 1 minute test duration | 250 V RMS | | |
Graphs
Phase Distortion (DLP)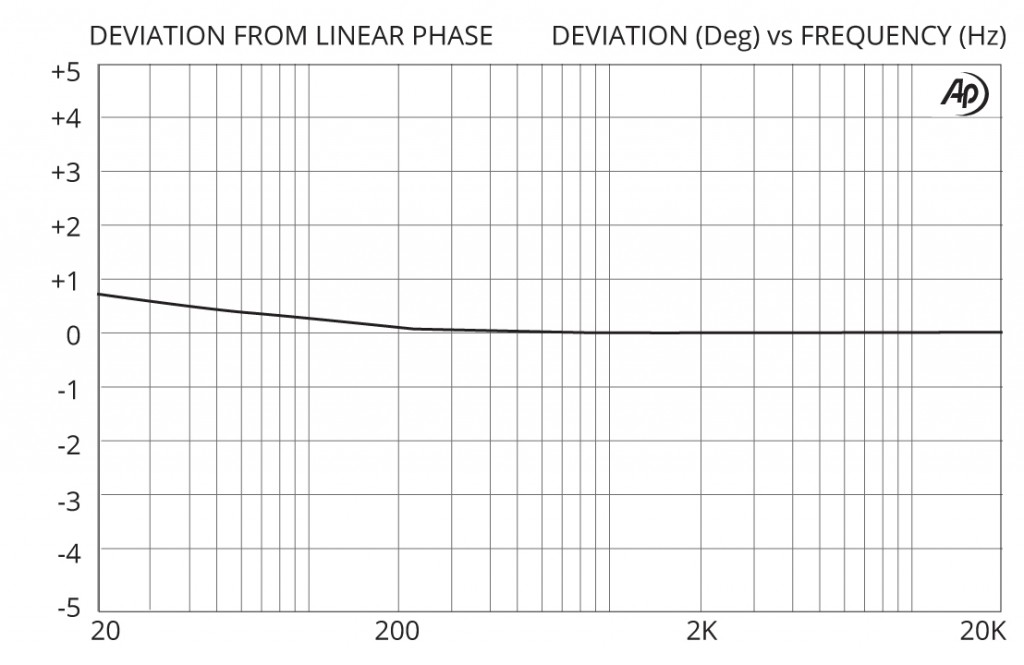 Frequency Response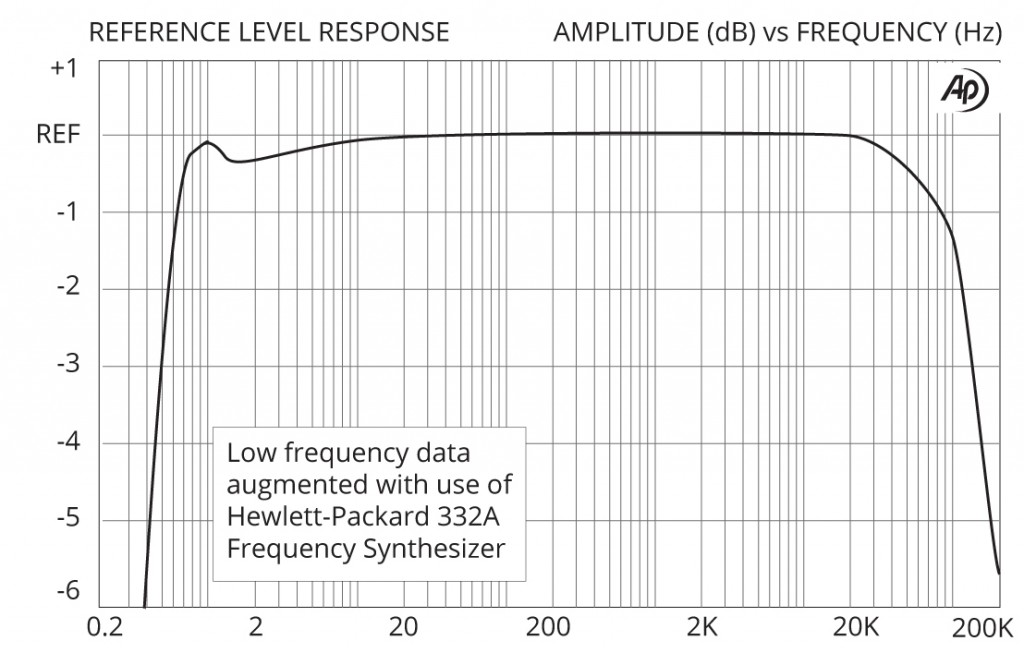 THD vs Level at Low Frequencies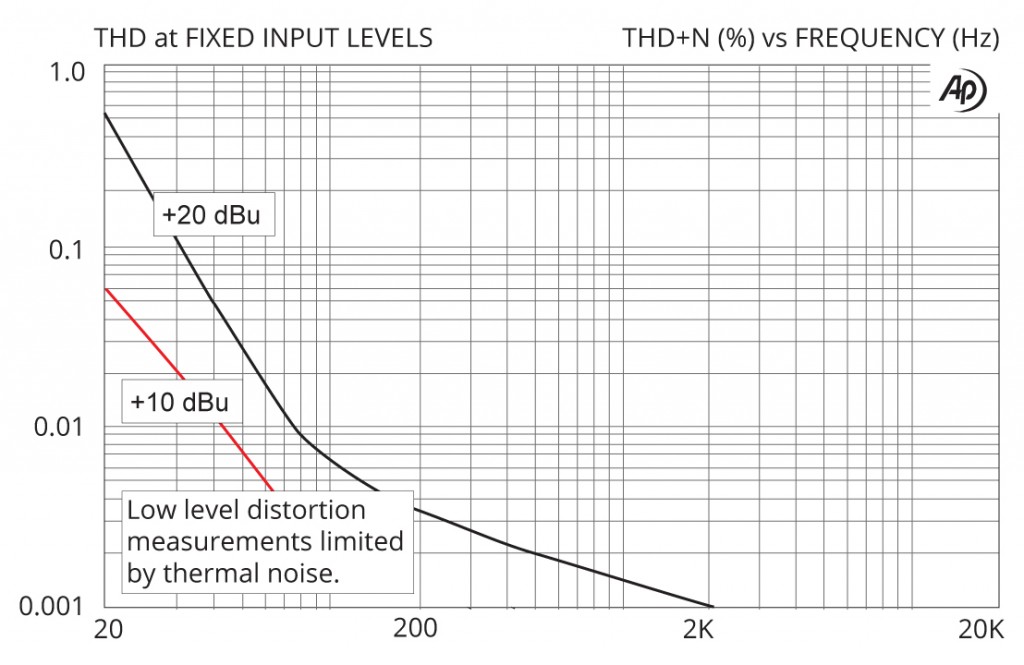 THD vs Frequency at Various Levels