Pro Touring
The following products are popular with the Pro Touring industry.
DB-2PX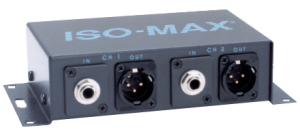 Instrument Direct Box - Two channel isolator converts Hi-Z instrument signals to a balanced mic level to interface with PA and recording consoles. Comes standard with 1/4" TRS inputs and XLR-M outputs.
Primary application:
Frequency response:
Max signal handling:
CMRR noise rejection:
Standard connectors:
Optimal cable length:
Converting Hi-Z instrument levels to balanced mic
< 10 Hz to 100 kHz
+22 dBu @ 20 Hz, +25 dBu @ 50 Hz
100 dB @ 60 Hz
1/4" TRS and XLR with plug in screw terminal
Output - 30 m (100')
PC-2XR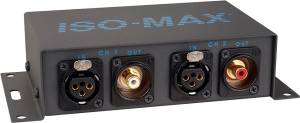 Pro to Consumer - Two channel isolator converts +4 dB professional balanced signals down to -10 dB for use with consumer audio devices such as laptops or video recorders. Comes with XLR-F inputs and RCA outputs.
Primary application:
Frequency response:
Max signal handling:
CMRR noise rejection:
Standard connectors:
Optimal cable length:
Converting +4 dB balanced to -10 dB unbalanced
< 10 Hz to 140 kHz
+21 dBu @ 20 Hz, +24 dBu @ 50 Hz
120 dB @ 60 Hz
XLR and RCA with plug in screw terminal
Output - 1 m (3')