Applications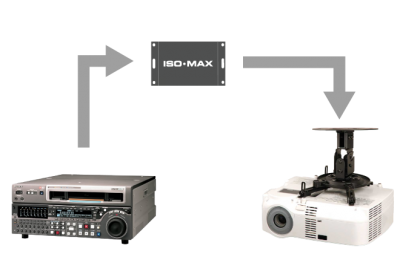 VBH-5BB with a projector
Often the projector is mounted in the ceiling, where separate circuits supply the projector and the source video player. Isolating the transmission line with the VBH-5BB helps eliminate hum bars and improves the picture quality.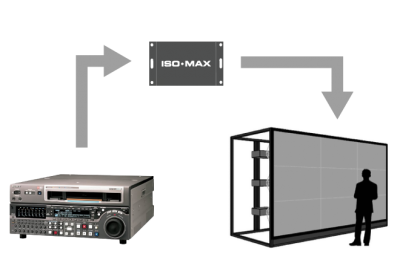 VBH-5BB in a live show
Today, live shows often combine video backdrops and screen projections to the action on stage. The challenge is keeping the video feed clean when the various equipment that surrounds it may be 'polluted' by motors, dimmers, and power transformers. Isolating the video system with the VBH-5BB solves the problem.
Specifications
| PARAMETER | CONDITIONS | MINIMUM | TYPICAL | MAXIMUM |
| --- | --- | --- | --- | --- |
| Input impedance, Zi | 10 kHz, test circuit 1 |   | 75 Ω |   |
| Insertion loss | 10 kHz, test circuit 1 (referred to -6.02 dB) |   | -0.05 dB | -0.10 dB |
| High Frequency Response, ref 10 kHz | 100 kHz, test circuit 1 (referred to -6.02 dB) |   | -0.005 dB |   |
| High Frequency Response, ref 10 kHz | 1 MHz, test circuit 1 (referred to -6.02 dB) |   | -0.005 dB |   |
| High Frequency Response, ref 10 kHz | 3.58 MHz, test circuit 1 (referred to -6.02 dB) |   | -0.10 dB |   |
| High Frequency Response, ref 10 kHz | 10 MHz, test circuit 1 (referred to -6.02 dB) |   | -0.20 dB |   |
| High Frequency Response, ref 10 kHz | 100 MHz, test circuit 1 (referred to -6.02 dB) | -1.00 dB | -0.80 dB |   |
| Low Frequency Response Ratio | test circuit 1 |   | DC |   |
| Common – mode rejection ratio | 60 Hz, test circuit 2, no cable | 50 dB | 56 dB |   |
| Common – mode rejection ratio | 60 Hz, test circuit 2, with 100 feet (30.5 m) of RG-59/U cable at input |   | 48 dB |   |
| Maximum common-mode voltage | 60 Hz, test circuit 3, 3% THD | 1.4 Vpeak | 1.7 Vpeak |   |
| Inductance | 60 Hz, 500mVrms, shield, input to output |   | 200 mH |   |
| DC resistances | center conductor, input to output |   | 0.70 Ω |   |
| DC resistances | shield, input to output |   | 0.20 Ω |   |
| Capacitances | center conductor to shield |   | 200 pF |   |
| Time Delay Skew between channels |   |   | 0.1 nS | 0.5nS |
| Weight |   |   | 4 lbs. (0.45 kg) |   |
| Temperature range | operation or storage | 0°C |   | 70°C |
Graphs
60 Hz Common-mode Feedthrough vs. Common-mode Voltage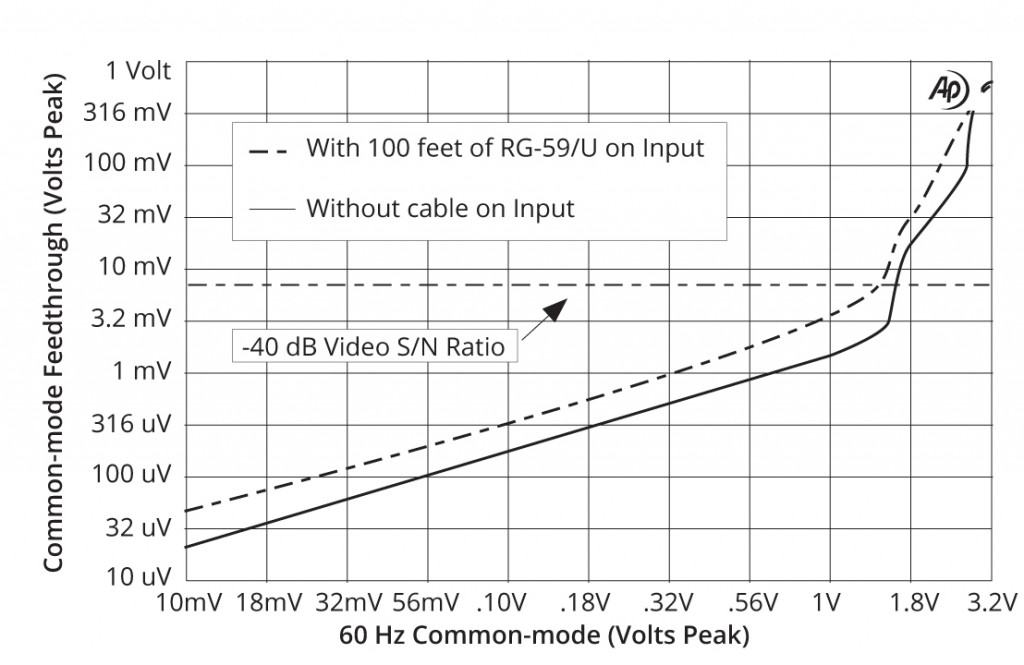 Common-mode Feedthrough vs. Frequency with 1V peak Common-mode Signal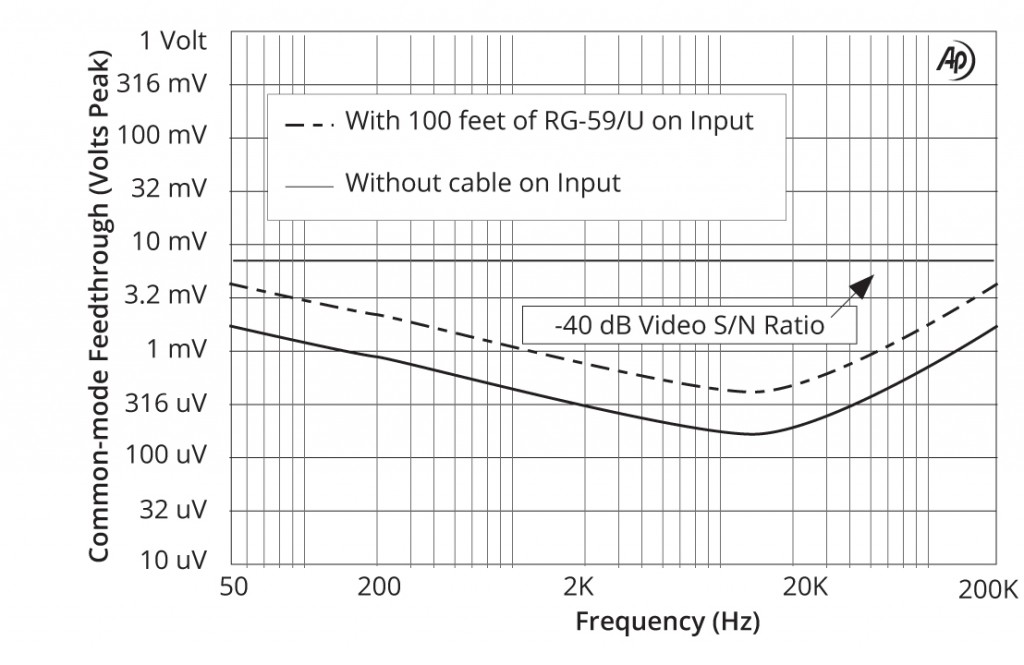 Amplitude Response (dB) vs. Frequency (Hz)
Reflection Coefficient (dB) and VSWR vs. Frequency (Hz)